Jasper Resorts
---
With more than enough outdoor activities to keep one busy in Jasper, a good choice for accommodations is a resort. A full service resort offers the kind of relaxation you will want after a day skiing, hiking or golfing and if you have kids in tow they can entertain themselves swimming or engaging in other activities offered by a resort.
List of top resorts in Jasper, Alberta, Canada

Sunwapta Falls Resort
Sunwapta Falls Resort offers complimentary vacation planning and custom itineraries to make your experience in Jasper as enjoyable as possible. The resort is conveniently located between Jasper National Park and Columbia Icefields Glacier Center and is 49 km away from Banff National Park. Sunwapta Falls features endless chain dining room, cabin style guestrooms and internet access.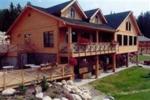 Coast Pyramid Lake Resort
This is the only resort with exclusive access to the tranquil Pyramid Lake. Coast Pyramid Lake Resort provides the perfect setting for a luxurious and romantic getaway. It features meeting and banquet rooms, fitness facilities, outdoor hot tub, picnic area and guest BBQ area. Visitors can explore the Jasper area with its bountiful walking and hiking trails or rent a canoe or paddle boat for a lake trip.
Free Internet
Fitness centre
Free parking
Pets allowed
Non smoking
Sauna & hot-tub
BBQ facilities
You may also be interested in taking a look at Jasper's hotels, cabins & chalets and motels.